Join us for some fresh healing vibes with specially composed frequencies, crystal instruments, & light language.
Register
...
A Quantum Shift Breath© session is a powerful, multidimensional combination of breathing, specifically designed music, movement, and Quantum Shift healing techniques. Through this deceptively simple and pleasant experience, the participant will experience profound energy shifts, be able to access greater awareness, your own intuitive knowing, and release old self-defeating patterns and habits.
Register
...
Manifest the life you want & deserve! The power of the mind is the strongest tool that we have as humans. And when enhanced with high vibrations & an open mind & heart, there are no limits because you carry the Infinite life force within to create what you desire. This workshop will explain the variety of ways you can build routines in your day to day life.
Yolanda is a certified Sound Healing Therapist with over 30 years of experience in Music Theory.
Register
...
When you learn how to regulate your Nervous System, you are in charge of your healing, stability, emotional & physical well being helping your energy & aura strong. This workshop will teach a combination of techniques from Kundalini Breathwork & meditation, Mantras, and exercises that will help you gain the confidence you need to help reset your Nervous system back to its original state and to continue forward with your daily life.
Register
...
No event found!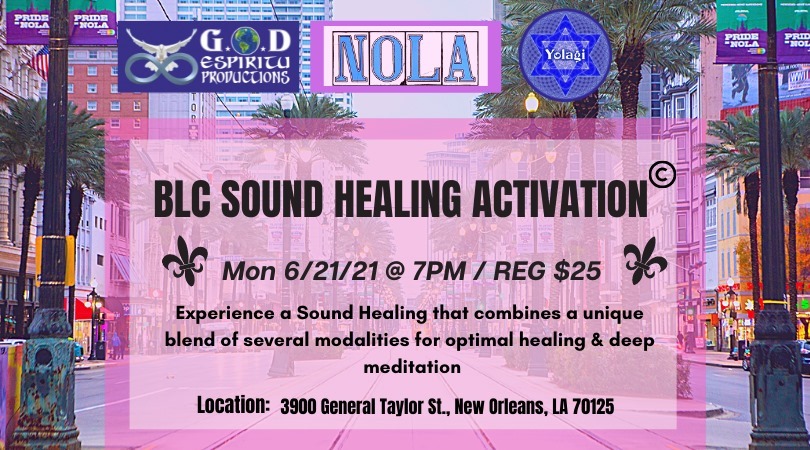 Mask & Reg Req.
NOLA BLC Sound Healing Activation© is a sound healing that combines a unique blend of several modalities for optimal healing & deep meditation. This meditation uses a unique blend of composition beats, with crystal instruments, light language, & layers of different healing energies like no other.
Please bring anything to make yourself
feel comfortable like blankets or pillows. You can also bring your stones to be super charged.
NOLA Blacklight Sound Healing Activation©